Lomi for women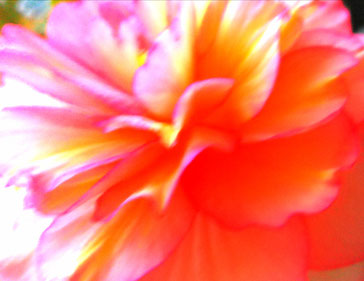 Women treasure empathetic and unintentional touch,

that permits the space for deepened perception
of body and soul.
This way, they can get closer to themselves,
discover, recognise and enjoy themselves anew.
This is the most important female resource
for power and joy.
In our world that has been masculinised for a long time,

what women really need has been lost.

A way of life that predominantly focuses on goals and efficiency,

adjustments to artificially created female images and third-party interests,

with a concurrent lack of powerful female role models

and absent female zones for exchange and recharge,

wears the female substance out.
So behind many bodily and emotional disturbances, problems, existential crises and so on

there's a deep-seated desire that women have for themselves
in terms of a primal feminine identity.
Female substance and power gather in stillness,
in plain being, within, in the deep,
in the practical, in the physical
and in honest, nurturing encounters

with other women.
To give Lomi Lomi from woman to woman,
creates a space of concentrated feminine energy

and in addition stimulates ways of
coming home to oneselfand
discover the vital abundance of female reality.

Lomi Lomi wakes a sensual, concrete attitude towards life,

assertiveness, self-confidence,

identity and self-love,

joy of life, depth and charisma …
The access to female authenticity, wisdom and strength
makes women independent,
bold and free to be themselves

and feel at ease with and in themselves.
Women of every age and appearance

are able to find their personal female charisma, expressiveness,
and individual life purpose on this way.
After a Lomi Lomi women tell
of a feeling
of finally having come home,

of loving reconciliation with themselves and their body,

of a state of being well nurtured,

of an exciting new vibrancy,

of deep self-awareness,

of trust in the wisdom of their body,

of becoming free from many needs

and dependencies

through growing love to themselves
and their womanhood
and much more.
See also:
www.initiatische-lomilomi.blogspot.com