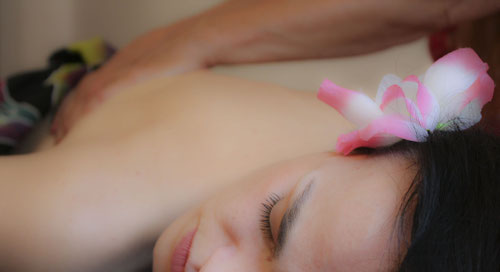 Lomi Lomi
Lomi Lomi – a celebration for the senses,
 balm for the soul …
As Hawaii's nature
is constantly moved by wind and waves,
the body is treated gently but powerfully
by rhythmic strokings, stretchings, rotations and cradlings.
During this traditional massage, the givers move accordingly to music and breath,

flowingly, almost like dancing, around the table

and accompany the receiver into increasingly deeper states

of relaxation, regeneration
and beneficial, inner experiences.
Lomi Lomi provides time and space
in order to unwind and connect to your inner self.
It helps on all levels
to relieve tensions and overcome blocks
as well as to recharge and rejuvenate deeply.
Lomi Lomi leads into an awakened-relaxed Here and Now,
in which the heart opens up,
and joy, confidence, motivation, power, and much more
arise again.
Deeply filled with peace,
people feel new-born after it,
and in touch with their true self.